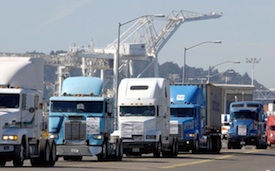 California's trucking industry has honored a Port of Oakland marine terminal for easing the state's containerized cargo crunch. Oakland International Container Terminal received the first-ever Terminal Recognition Award last week for opening its gates at night.
The California and Harbor trucking associations presented the honor at a conference in Long Beach. The organizations also recognized Long Beach Container Terminal and Yusen Terminals of Los Angeles.
Ports up and down the West Coast are attempting to improve marine terminal efficiency. Terminals are where ships, trucks and trains converge to move the world's containerized trade. Lengthy truck transaction times slow delivery to cargo owners.
Adapted from a Port of Oakland news release. Read the rest here