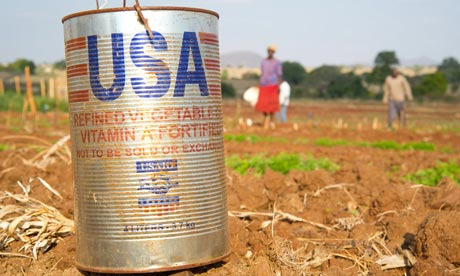 Development charities have been concerned for some time that corporate agribusiness supplies the lion's share of the contracted food aid and the Guardian investigation bears this out.
It is not surprising ADM, Cargill and Bunge dominate food aid, since they dominate global grain trade too. They are also powerful political players; in the first three months of 2012 alone, ADM and Cargill reported lobbying expenses of $360,000 and $340,000 respectively; Bunge reported spending $230,000 over the same period, lobbying Congress on a range of largely agricultural issues, including "support for US in-kind food aid programmes".
Patrick Woodall, research director at Food and Water Watch, pointed out the inherent contradiction in current policy. The companies that benefit from the US food aid business are the very companies that encourage poor countries to cultivate non-food crops for export rather than food to feed their people. "In terms of global food security, it seems like a double-edged sword," he said.
Debate over these issues is growing as Congress approaches a 30 September deadline to pass a new farm bill. Negotiated every five years, it is one of the largest and most contentious pieces of US legislation, setting policy on a wide range of issues – including the bulk of international food aid.